---
We open for the season on May 22, 2021!
As you walk through the doors of The Table Culinary Studio, your senses are immediately engaged. The essence of community fills the former New London United Church, alive with a history of events that brought people together within its walls. What better place to congregate and share in a unique culinary experience than a space that was created for the gathering of family and friends?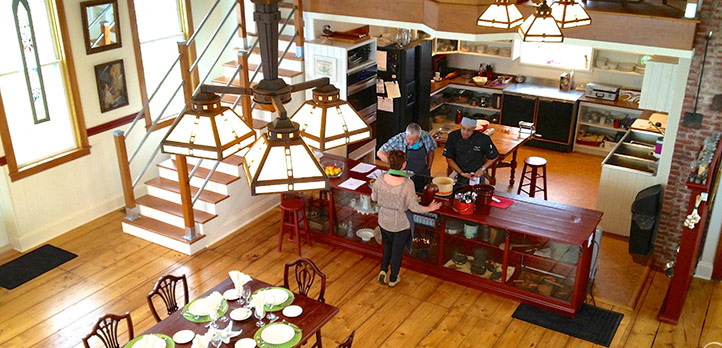 The Venue
The former New London United Church that now houses The Table Culinary Studio was built in 1953 through the generous donations of its members and supporters. In recognition of that community commitment, every effort has been made to preserve the building's distinctive architectural features and to honour its origins, creating an enchanting setting.
Exposed trusses and streams of natural light radiating through stained glass windows establish a leisurely atmosphere of relaxation. The original pulpit built by Marshall Constable has been incorporated into the new upper level of the building, providing a focal point for speakers addressing guests at private functions. Our 12-foot long harvest table was built by local artisan Todd Woodside using 140-year-old attic boards salvaged from a nearby home. A custom-built spiral staircase leads up to the church tower and a cozy Cookbook Nook for a quiet moment or conversation. The side garden is home to our outdoor cookhouse, affectionately called "The Sideboard", it is the hub of our outside experiences where you can take in the pastoral landscape view that must be seen to be fully appreciated – a panorama for photographers and artists.
Your Experience
Prince Edward Island is known for its gentle, friendly atmosphere, where family traditions remain alive and well. Our Island is a place where friends and family continue to gather around the kitchen table regardless of reason, regardless of season. That sense of gathering and belonging is what we strive to achieve when you visit us.
During our Culinary Classes, we'll introduce you to traditional and innovative PEI recipes and the best modern culinary techniques in a hands-on and fun cooking experience. We'll explain the effect and impact of each ingredient and answer any questions you may have. We'll guide you step-by-step through cooking techniques as you produce your own meal of authentic dishes… made almost entirely of foods produced and harvested right here on our beautiful Island.
At our Intimate Island Dinners, we'll introduce you to the bounty of our local North Shore food community. The food that is served a The Table Culinary Studio is organically farmed, pasture raised and fished by friends of ours from within a 15 minute drive and is often picked by Chef Derrick himself for the evening meal. Our open concept kitchen allows you to watch the Chefs as they prepare your meal and enjoy the welcoming atmosphere of the unique setting.
CHEF DERRICK Hoare

Proprietor/Chef
As far back as I can remember I have always chosen a unique path. My search for the eclectic has led me in a number of wonderful directions and to some very satisfying places. I have spent the majority of my adult life in the service of seniors, have played professional sports, flown planes, mediated labour disputes, acted in TV and movies, and trained as a Chef.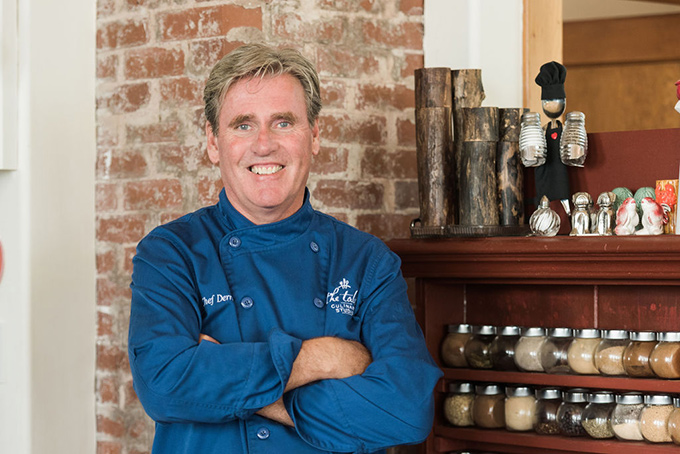 I was born and raised in small town Ontario, and grew up loving the outdoors. There is something special about being outside and at one with nature. The earth speaks to us through the fields, mountains, seas and rivers. All my life I have heard and seen the beauty of nature, and I really think that is why I have settled here on Prince Edward Island.
PEI is also known as the birthplace of Canada, and I love that the idea of creating a nation was born on this small Island. Even though I am "from away", I have made my home here. I have had the opportunity to put my hands to work making lobster traps, earning my Cork designation on a 45' Hutt fishing boat, helping to catch 4,000 lobsters, being part of a crew that caught both 400 lb. and 800 lb. tunas, making spat collectors for oyster farming, cleaning my fair share of eel nets, and most recently helping to build a barn. I relish opportunities to learn hands-on from Island fishers and farmers, and experience the hard work and ultimate joy of cultivating the food we serve at The Table Culinary Studio.

My most cherished pastime is creating culinary events for friends and family using fresh Island ingredients from the sea and red soil. I enjoy gathering people from different places together at The Table to share an Island experience built on incredible food, colourful stories and lots of laughs. My goal for The Table is to give you an Island culinary experience that will inspire you to recreate it and share it with your friends and family.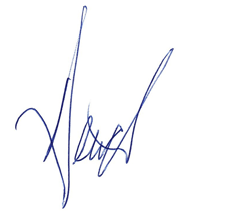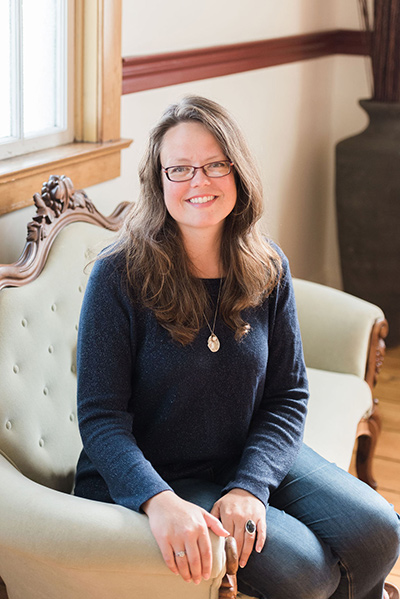 CHristine Morgan

General Manager
Prince Edward Island is my happy place. For me is it is a place of community, hard working people, breathtaking natural beauty and as Anne so aptly put it, plenty of "scope for the imagination". Along with Chefs Derrick, Hunter and Kim, I take great joy in working in partnership with local farmers and fishers, and sharing the restored church, our food and Island stories with everyone who visits The Table.
Originally from Toronto, I have Maritime roots, with family still living in Nova Scotia where I spent many fun-filled summers. With an education in archaeology and work experience in corporate office administration, I have been a part of The Table since it's inception. I organize, implement and help run classes, dinners, events and weddings. It is my heartfelt goal to make each moment of your time with us into a wonderful memory.
I love getting in the kitchen with the Chefs to learn, laugh and create. I assist the Chef in many of our classes and teach the Artisan Bread class myself. I hope you will join us at The Table and let us share with you our love of the Island, it's incredible food and the amazing farmers and fishers who make it all possible.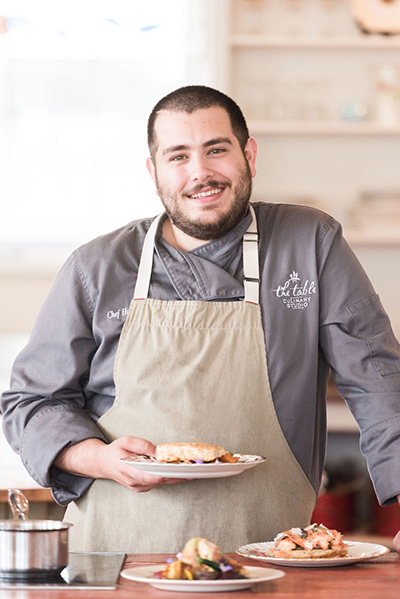 Chef Hunter Guindon

Executive Chef
Chefs on PEI might be the most privileged in the world. We live alongside the most passionate food producers, on a floating farm surrounded by some of the worlds most pristine waters. My duty as a Chef is to show our guests why the hard work of our farmers, fishers, culinary artisans, and soil is so incredibly special.
From a young age food was more than just sustenance for me. My love for food quickly turned into an obsession. I want to know where it came from, how it was grown, who grew it, and how it ended up in my kitchen. The relationships I get to make with both the food producers, and the ingredients on PEI feeds my soul. Food sovereignty, seasonality, sustainability, and locality is incredibly important to me.
Originally from Peterborough, Ontario, I was drawn to PEI by its hyper-local culinary scene. Upon graduating from the Culinary Institute of Canada in Charlottetown in 2015, I was the opening Sous Chef of Fireworks at The Inn at Bay Fortune where I spent two years taming the live fires and working with some of PEI's best ingredients. After working in Whistler, BC and across Ontario, I was drawn back to PEI to spend a summer working at The Pearl in North Rustico.
My pursuit of real, local, sustainable cooking then brought me to work as the Sous Chef of the former Terre Rouge Craft Kitchen, and to the formation of Local Supper Club, a tasting menu only pop-up using 100% PEI grown ingredients.
I am extremely excited to be a part of the passionate team at The Table and to be returning as the Executive Chef this summer. I can't wait to showcase to our guests the incredible food that Prince Edward Island has to offer!
Chef Kimberly Conway

Chef of Experiential Classes
As far back as I can remember, all I wanted to do was cook. The relationship between producers and Chefs that we are privileged to have on PEI is unlike anywhere else in Canada. I believe that my job as a Chef is not only to cook great food, but to teach and tell PEI's food story through the incredible products and relationships this Island has to offer.
Being born and raised on PEI has given me a depth of love for this Island that I never thought I could have. I grew up in an agriculture driven small community where everyone knew everyone. Upon graduation from the Culinary Institute of Canada in 2018, I was laser focused. As a result, I was able to earn my Red Seal Certification only months later.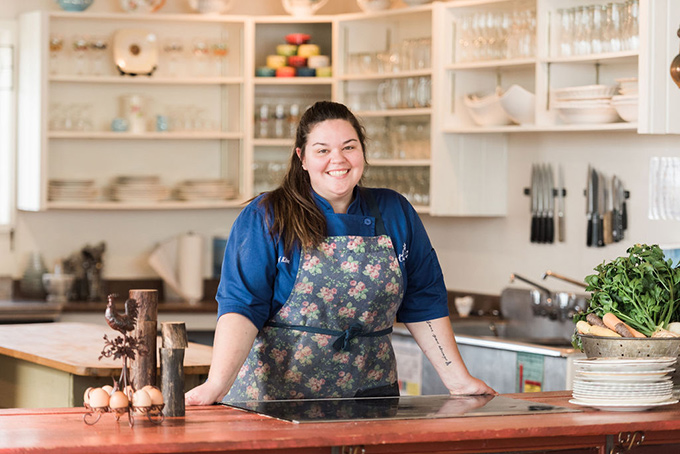 After traveling Canada coast to coast, I ended up back at the former Terre Rouge Craft Kitchen in Charlottetown, PEI. It was at this restaurant, working with some of the best Chefs I have ever had the pleasure to work with, that a fire started in my heart fueled by working with real, local, and sustainable food. Food that really showed off what this beautiful Island has to offer the world.
I am thrilled and honoured to be returning as the Chef of Experiential Classes at The Table this summer. I can't wait to teach each and every one of you about why Prince Edward Island has so much to love!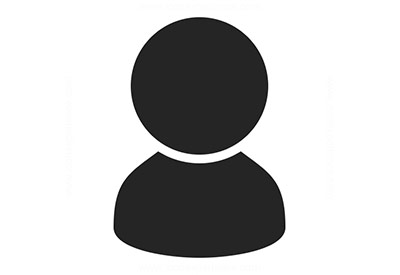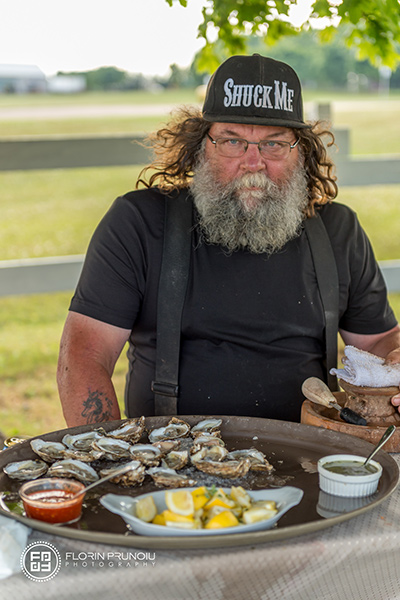 George Dowdle

Aquaculturalist
It's not uncommon to hear our neighbour and good friend George say "I'm just an oyster fisherman", but nothing could be further from the truth. George is a skilled Aquaculturalist and the owner of Green Gables Oysters, a small family-run oyster growing operation with over 60 acres of oyster aquaculture sites in New London Bay and the Southwest River.
After studying Marine Seafood Processing at Holland College, George has gained almost 40 years of first-hand experience and knowledge in Aquaculture, working in Island fisheries including lobster, fish, mussel, eel and oyster fishing. He is a long-time resident of New London, and an important part of the Team at The Table. George joins us for many of our seafood dining experiences, shucking his beautiful Green Gables Oysters while sharing salty stories and oyster knowledge. He has even been called "The Oyster Oracle". George personally fishes all of the oysters served at The Table less than an hour before each meal. You won't find any fresher oysters than these and the mignonettes he creates to accompany them are divine!